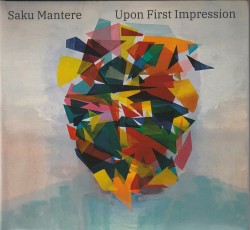 Upon First Impression
Saku Mantere; Various Finnish and Canadian Artists
Orchard of Pomegranites (sakumantere.ca)
Finnish-born Montreal-based jazz vocalist/composer Saku Mantere's ten-song debut release is a very personal musical project, touching on his diverse, emotionally moving life experiences. Mantere divides his time between Canada, where he works as a McGill University organizational theorist professor, and Finland. His English original compositions and cover song arrangements were recorded in Montreal and Helsinki with his musical collaborators from both countries.
Mantere's setting of Welsh poet Dylan Thomas' And Death Shall Have No Dominion, is a storytelling jazz and pop mix. Canadian musicians support Mantere's clearly articulated wide-pitch-range vocals like Lex French's opening trumpet to mid-tune improvised Kate Wyatt piano and Adrian Vedady bass duet, to Jim Doxas' upbeat drums throughout. Mantere reharmonized Tom Waits' Time, upon which his childhood friend renowned Finnish arranger/conductor Jussi Lampela based his nonet score featuring Finnish instrumentals-like counterpoint and trills contrasting Mantere's especially touching high-pitched singing and vocal whispers.
Mantere's originals are amazing. Highlights include his classic slightly edgy jazzy ballad Radio Silence, with broken-hearted emotionally sad lyrics and softer vocal and instrumental held notes. Nice change of pace with his closing upbeat tango-nuevo song Leap of Faith. His colourful vocal duet with Jennifer Gasol about a couple drifting apart, perhaps referencing Mantere's own marriage breakup, and virtuosic Finnish musicians' instrumental solos held together by drums is super fun.
Mantere's music is superb. A song sung in Finnish next time would be illuminating too!