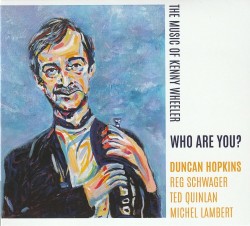 Who Are You? The Music of Kenny Wheeler
Duncan Hopkins; Reg Schwager; Ted Quinlan; Michel Lambert
Three Pines Records TPR-0015 (duncanhopkins.com)
The late Kenny Wheeler (1930-2014) was a Canadian composer and trumpet/flugelhorn player with an international reputation who pushed the boundaries past jazz standards and into free improvisation. He lived most of his life in England and recorded many albums, primarily for the ECM label.
Who Are You? is Duncan Hopkins' celebration of Wheeler's music and includes Reg Schwager and Ted Quinlan on guitars with Michel Lambert on drums while Hopkins holds down the bass duties. Having two excellent guitarists provides an intriguing interpretation of Wheeler's compositions and the interplay between Schwager and Quinlan creates many musical highlights. For example, their "almost unison" playing enhances Foxy Trot's up-tempo melody and each solo is excitingly different.
The final three tracks, Montebello, Kitts and Salina St. are named after St. Catharines (aka "Kitts") and the neighbourhood where both Wheeler and Hopkins lived. Kitts and Salina St. were composed by Wheeler and re-arranged by Hopkins. Montebello is a Hopkins original named after the park at the end of Salina St. where they met. This suite of three songs adds a very personal and delicate touch to the album.