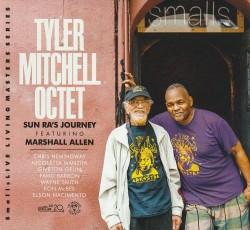 Sun Ra's Journey featuring Marshall Allen
Tyler Mitchell Octet
Cellar Music CMSLF001 (cellarlive.com)
Sun Ra (born Herman Poole Blount) was a jazz composer, keyboard player and bandleader who was active from the 1950s to the 1980s. He was known for his claims of being an alien and many mystical allusions about space and time which could also be viewed as commentary on world politics and race.
Sun Ra's music included the history of jazz (ragtime, swing, fusion etc.) and many avant-garde elements. I was lucky enough to see him live in Toronto in the 80s and can confirm that each performance was an event. He combined melodic jazz tunes with great ensemble playing and solos that often went outside the traditional jazz sound; he also introduced synthesizers to provide some "other worldly" sonics.
Both Tyler Mitchell and Marshall Allen played with Sun Ra for many years and Sun Ra's Journey is a homage to their bandleader and his music. Care Free is a very swinging opener which showcases some excellent trumpet work from Giveton Gelin. Free Ballad begins with electronic sounds and works into a gorgeous alto sax solo from Allen that swoops between tonal and experimental. Sun Ra's Journey is a delightful album that celebrates Sun Ra's legacy by proving it is still alive and inspiring.