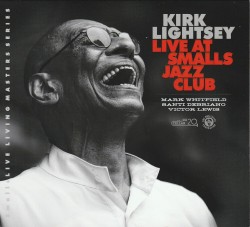 Kirk Lightsey – Mark Whitfield; Santi Debriano; Victor Lewis
Live at Smalls Jazz Club
Cellar Music CLSMF003 (cellarlive.com)
Legendary pianist, Detroit-native Kirk Lightsey, has been gracing the ears of listeners around the world for nearly 70 years. The same energy that the stellar musician started out with has carried on within this latest release, a special live recording at New York City's Smalls Jazz Club that highlights the fantastic work of this jazz great. As a little aside, the Smalls LIVE Mastering Series is a great set of recordings, showcasing the best of jazz musicians that are still with us. Joining Lightsey is a stellar backing band featuring renowned musicians such as Mark Whitfield on guitar, Santi Debriano on bass and Victor Lewis on drums. The album is chock-full of great renditions of classic tunes, such as In Your Own Sweet Way by Dave Brubeck and Lament by J.J. Johnson. Scintillating talent is present on this record; it's an all-encompassing musical journey that draws the listener right in.
The musicianship and thought put into detail throughout these pieces and renditions is just marvellous. A perfect example of this is Freedom Jazz Dance, featuring rhythmically tight piano riffs, a moving bass line that underpins soaring solos and keeps the energy constantly brewing and an intricate guitar melody that just pulls you in and captivates you with those tiny nuances. In these tunes, magical feeling develops where the music completely envelops you and everything else disappears. For new and seasoned jazz lovers alike, this is one record to check out.