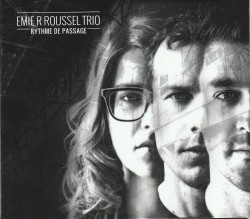 Rythme de Passage
Emie R Roussel Trio
Uni Musiqc UNICD-4720 (emierroussel.com/en/home/)
In traditional larger ensembles the piano, bass and drums feature in what is referred to as the "rhythm section." Famous trios from Nat Cole to Art Tatum, Paul Bley, Bill Evans, Keith Jarrett and others changed all that. With more adventurous exploration of the instruments, trio music has evolved enormously. Singularity of sound, however, has often remained elusive. Not so with the trio of Emie Rioux-Roussel (piano), Nicolas Bédard (bass) and Dominic Cloutier (drums).
Rioux-Roussel's music is born of a fluid relationship between written material and improvisation and dwells in the delicate balance of European and American jazz. Rythme de Passage celebrates a decade of such musical collaboration; its repertoire clearly establishes how the relationship between each musician has evolved from being one in which the fire and brimstone of youth has paved the way for the well-honed values of experience. This is brilliantly caught in the sumptuous music of this record.
The trio operates as a partnership of equals, not as piano and accompaniment. The sound is essentially produced by unamplified, acoustic instruments. Electric instrumentation is unobtrusively integrated in the same spirit with the pianist and bassist principally exploiting it. Its use is sparing and enhances the acoustic instrumentation rather than distracting attention from it.
This trio music glows in its unique lithe elegance, its warmth and poetic joyousness; the tantalizing symmetry of melody and harmony. A musical adventure which sets off in unexpected directions and always swings exactly right with its own fascinating rhythm.