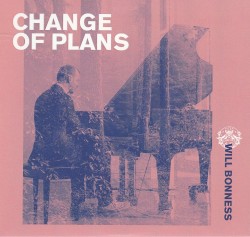 Change of Plans
Will Bonness
Independent (willbonness.com)
As a guitarist by trade, I have always been jealous of the harmonic possibilities available to pianists. Ten fingers and 88 keys, paired with the visual nature of the keyboard, gives them a unique advantage as orchestrators and arrangers. This is often rebutted by my piano-playing colleagues with things they're jealous of in the guitar and saxophone worlds; easier legato phrasing and longer sustained notes come to mind. Winnipeg pianist Will Bonness' new release, Change of Plans, does an excellent job of utilizing the piano's advantages and showcasing his musicianship in a quintet setting, with vocals by Jocelyn Gould and Jon Gordon on saxophone. They are joined by Julian Bradford on bass and Fabio Ragnelli on drums. The resulting album strikes an imperturbable balance between modernity and grounding in the jazz tradition.
It is refreshing to hear this kind of contemporary music being created in Canada. Particularly in Winnipeg, whose long thriving music scene unfairly receives less attention than those of many larger Canadian cities. Change of Plans' originals, arrangements of standards and one Smashing Pumpkins cover, all call to mind the cutting edge often associated with New York City. While each of the quartet's members has spent ample time in that scene, this album should receive extra attention for being a Winnipeg one at heart. While so many younger Canadian musicians move abroad, the commitment to community present on this recording makes it unique, and a globally relevant offering of Canadiana.