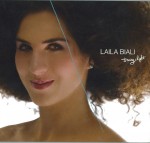 Tracing Light
Laila Biali
Independent LB09102 (www.lailabiali.com)
Laila Biali has had quite a year – a new gig as backing vocalist with Sting, a new baby and now a new CD. "Tracing Light" is the third solo album for the Vancouver-raised, Toronto- and New York-based performer and composer.
Although Biali started out her still-burgeoning career as a jazz piano player who sang occasionally, with "Tracing Light" it's her singing that predominates. All the tunes except two – an instrumental and another that features Sudanese vocalist Waleed Abdulhamid, both of which Biali composed – feature Biali's light pretty voice, which is at times reminiscent of Sarah McLachlan. The disc starts strong with an absolutely stunning cover of Imogen Heap's Let Go, featuring Larnell Lewis's exquisite drumming. (Lewis is a standout throughout the disc, turning in some of the most exciting drum work I've heard in a long time.) The Best Is Yet to Come is shaken out of its customary casual groove and turned into a barn burner with Lewis and bassist and producer George Koller driving the tempo and Biali right there with them coolly and capably navigating multiple key changes. The disc closes out with Biali alone on Billy Joel's And So It Goes to which she adds a layer of harmonic complexity on piano and fathoms of emotional depth to the poignant lyrics.
Concert Note: Biali is performing a live-to-air concert with Lewis and Koller on December 6 on Jazz.FM91.