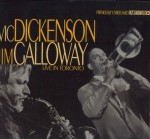 Perhaps it belongs on television's Antiques Roadshow. It's a valuable slice of Canadian jazz history – a treasure trove in fact. Thirty-seven years ago saxophonist Jim Galloway played with American trombonist Vic Dickenson at a long-gone Toronto venue, Daniels. The show was recorded by Hogtown's voice of jazz Ted O'Reilly, who stored the tapes – and now they've been transcribed. The result is Vic Dickenson Jim Galloway - Live In Toronto (Castor Records 11 001 www.jimgalloway.ca), which is pure delight, Galloway on his straight soprano for once (and occasionally baritone sax) matching wits with the king of growls, smears and all-around soft-toned, fluent wit. Backed by warhorses Ron Sorley (piano), Danny Mastri (bass) and George Reed (drums), the session is relaxed, yet swinging, from the first notes of Sonny Boy to the last of Just You, Just Me. It's fabulous mainstream jazz, with journalist-drummer Paul Rimstead in for three of the dozen tracks. Happily Galloway sounds today much like he did then but everyone who heard Dickenson live misses his earthy playing with its immediately recognizable sound. The leaders both understand the blue notes and tasteful lyricism, and each gets his own stylish feature, Dickenson singing with his horn on Manha de Carnaval and Zing went the Strings of my Heart and Galloway, wry and charming as ever on baritone with Solitude. This great record shows how the wisdom of age trumps the pretentious audacity of much jazz youth.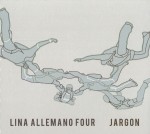 Trumpeter Lina Allemano is at the forefront of free jazz innovation and glides appealingly on Lina Allemano Four - Jargon (Lumo Records LM 2010-4 www.linaallemano.com) with regular colleagues Brodie West (also sax), Andrew Downing (bass) and Nick Fraser (drums). The leader composed all seven songs, the opening Cannonball Adderley Tattoo not soulful but surging over churning bass and stimulating rat-a-tat drums. The quartet treats time like a toy, sampling all possible permutations. West's tart tone and distanced viewpoint suits Wayne's Shorts a nod to Shorter's mysterious writing and playing while Sling Slang is almost hard bop, textures colouring a sparse theme with uninhibited horns scrambling over an undulating rhythmic landscape. Water is wistful fragments, the title tune channels another altoist (Ornette Coleman) before sliding into dissonance and feverish feeling, while fresh emotional tempests and pungent probing conclude the session which, unfortunately, is far too short – just 40 minutes.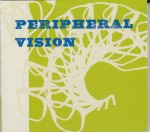 Drummer Nick Fraser is also hard at work with new band Peripheral Vision, co-led by bassist Michael Herring and guitarist Don Scott, whose debut album is the self-titled Peripheral Vision (Step3 Step3-001 www.peripheralvisionmusic.com). This outfit produces jazz for this century, often fiendishly challenging musical structures, intricate forms that might seem relatively simple but in fact are a dense thicket of tricky harmonies, demanding melodies and punishing rhythms. However, along with tenorman Trevor Hogg, the band shapes interesting paths along the divide between inside and outside playing. All the tunes are by the leaders, whose influences are catholic – pop, rock, classical and more. Treehouse exploits fascinating motifs, Lot offers eerie moments over walking strings, and all the material has something to say, propelled with elegant momentum and hearty rations of dynamic interplay despite constantly shifting moods. Alongside the contemplative melody making there's passages that crackle with intellectual energy, Herring anchoring the tapestry and pulsating where it counts and Scott all serpentine fluidity. Concert Note: Peripheral Vision is officially released Dec. 2 at Trane Studio after a 14-venue tour.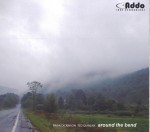 A pair of Toronto veterans show how duo recordings should be executed and presented on Brian Dickinson Ted Quinlan - Around The Bend (Addo Recordings AJR004 www.briandickinson.ca). Pianist Dickinson and guitarist Quinlan are a classy double act who clearly think about every minuscule detail of their craft, delivering superior jazz and an extraordinary rapport that's never undermined by abrasive competition – almost one body, four hands. Eight of the 10 cuts are originals, plus there's Monk's classic Monk's Dream and a spin through the love scene theme from the movie Spartacus. The protagonists say (in the liner notes) that playing in twos is scary but liberating, with unique challenges. It's like an extended conversation between two friends and that a duo session is like getting to know someone personally and musically. Amen to that. Such professed togetherness is illuminated here to telling effect, with labyrinthine ideas tossed back and forth whatever the context. It's a faultless performance, highlights including the opening title piece, the bright ballad Pastiche, the chirpy Rockin' At The Hillside and Limbo.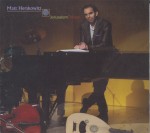 Montreal-based Matt Herskowitz is an imaginative artist whose tastes spill over conventional boundaries, as Andre Previn and Dave Brubeck have demonstrated. His Jerusalem Trilogy (Justin Time JUST 239-2 www.justin-time.com) hauls world music, particularly that of the Middle East, into the jazz orbit. The leader calls it 21st century chamber jazz. It's a risky notion, but the Herskowitz trio plus violinist Lara St. John and cellist Mike Block, lesser guests and a string quartet on one track (with some through-composed music) make the idea work. Main mealtime item is the three-part Jerusalem Suite with fine use of flowing runs and counterpoint while tunes like the klezmer-styled Gottingen and the note-heavy Prokofiev's Revenge celebrate the fusion of differing styles and cultures. Only preference for electric rather than acoustic bass jars proceedings.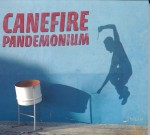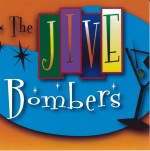 Three other Canadian discs caught my ear this month. Canefire's Pandemonium (www.canefire.ca) is splendid Caribbean jazz featuring steel pans, The Jive Bombers Jump (www.thejivebombers.ca) has a gaggle of Toronto stars blasting their way through jump blues and more and Montreal electric bassist Alain Caron is at his funkiest on the nine quartet tracks of Sep7entrion (www.alaincaron.com).