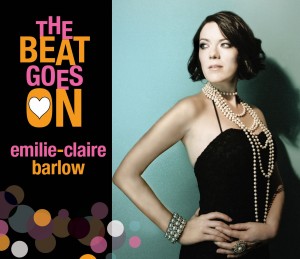 The Beat Goes On
Emilie-Claire Barlow
Independent EMG445
www.emilyclairebarlow.com
With "The Beat Goes On" Toronto-based jazz singer Emilie-Claire Barlow has done what a few wise singers are doing these days, namely looking to more recent eras and songwriters for fresh material rather than the overdone American Songbook. This time out, Barlow has focused her considerable talents and jazz sensibilities on the 60s. The opening track sets the tone for the album as Kelly Jefferson provides nuanced sax fills on a swingy 6/8 version of Bacharach's Raindrops Keep Falling on My Head. Barlow has written all the arrangements herself and the stripped down instrumentation that predominates fits her light, pretty voice like a Pucci print dress. We feel transported to a Yorkville coffeehouse as just bass and congas (Ross MacIntyre and Davide Direnzo) accompany These Boots Were Made for Walkin'. Very groovy. Iconic sounds of the 60s bubble up in the woodwinds on Soul Bossa Nova as it's mashed up with the classic Sonny & Cher title track.
An exploration of the 60s wouldn't be complete without a journey to that hotbed of musical innovation, Rio de Janiero, and the cover of O Barquinho (My Little Boat) featuring Reg Schwager's nylon string guitar skills perfectly evokes a carefree Brazilian day. Barlow's specialty is bossa nova (do yourself a favour and find her version of O Pato on YouTube) so when she surprisingly imposes that style on Dylan's Don't Think Twice, It's Alright it actually works.
"The Beat Goes On" will be released on October 12. Barlow is performing live to air on JazzFM91 October 21 at 7:00 PM and at the Queen Elizabeth Theatre May 14, 2011.