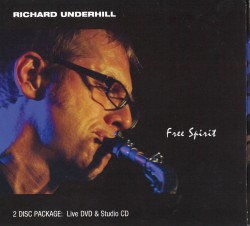 Here's another winner from the Richard Underhill stable, a sure candidate for assorted end-of-year awards and, for once, a CD and DVD package that works. It's a studio session so passionate you could believe it's live, plus a DVD recorded at Lula Lounge last October that entertains for more than 90 minutes, plus a bonus segment containing the leader's incisive jazz opinions. Make sure you experience Free Spirit (Stubby Records SRCD-7734 www.richardunderhill.com). The CD line-up's interesting with Underhill's alto and the trombone of Ron Westray, late of the Lincoln Center Orchestra and now at York. Their companions are pianist Dave Restivo, who plays with marked intensity, plus hardworking bassist Artie Roth and all-action drummer Larnell Lewis. All nine tunes are by Underhill, whose snarling horn sound on This House and Hustle Up might raise your neck hairs. Westray's speed is remarkable and skittish, both horns swinging hard, dabbling in exhilarating free jazz outbursts. Great inventions are the clever Positive Spin and the anthemic Be Strong, Be Strong. The DVD session allows more solo room and also brings in edgy, rock-influenced guitarist Eric St. Laurent and for three tunes djembe (hand drum) exponent Michel DeQuevedo. Consistently sharp and engaging, the groove's ever-present with delightful forays on Blakey's Bounce and Bike Lane. This is challenging, complex and robust music, ranging from lyrical to incendiary, yet still communicating with pleasing ease.
Concert Note: Underhill performs at the Southside Shuffle in Port Credit on Sept. 11.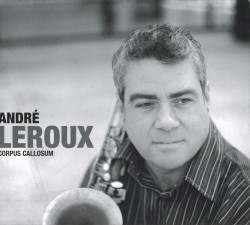 Quebec jazzman André Leroux is known primarily for his solid tenor sax but on Corpus Callosum (Effendi FND089 www.effendirecords.com) he's into soprano, flute and bass clarinet, performing with long-term associates Normand Deveault (piano), Frederic Alarie (bass) and Christian Lajoie (drums on eight cuts). Astonishingly it's Leroux's first album as leader but clearly he's comfortable directing musical traffic in what he calls "a group therapy session" recreating the spirit of Coltrane through his band's own compositions. This he does with warm tones and technical aplomb, kicking off with earnest tenor and outside playing on Speed Machine followed by penetrating, fluent soprano on the stern Sa Ka Vin, followed by a hard-charging Elvin's Mood that's both earthy and eloquent. The resourceful Ode A John has unconventional chord voicings, while mournful solo tenor on Cadenza For Nationz precedes a return to exotica with the lengthy Offertoire, somewhat spoiled by overdubbing.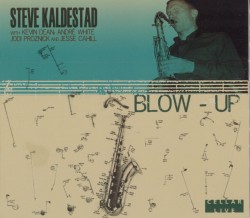 The West Coast scene remains active, despite an apparent divide between avant-gardists and hard boppers. Hear the latter with Steve Kaldestad on Blow-Up (Cellar Live CL053109 www.cellarlive.com). He's recruited local pulse heavies Judi Proznick and Jesse Cahill and the Montreal pair of trumpeter Kevin Dean and pianist André White – all with McGill U connections. The leader penned four of seven long pieces that also include a tension-breaker in A Flower Is A Lonesome Thing. Kaldestad's Shimmy!, an offspring of Honeysuckle Rose, shows strong influences from the 60s 'Blue Note' years and the music, live at Vancouver's Cellar Club, breaks no new ground though it's executed efficiently enough, the standout player without doubt Dean, who regularly delivers surprise in emotional solos. His rambunctious blues So Long Cerulean is the highlight of this no-frills set.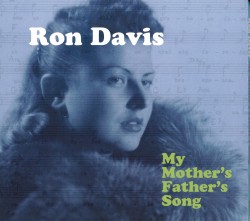 Prolific pianist Ron Davis has released his seventh trio album – My Mother's Father's Song (Minerva Road/Davinor Records 600977 www.rondavismusic.com). The title family reference recalls his grandfather's 1930s Warsaw restaurant and is commemorated three times here – by trio, bass and piano – among the 13 tunes including four originals plus rarefied standards such as La Mer and My Shining Hour plus covers of hits by Stevie Wonder, James Taylor and Coldplay (the opening Viva la Vida ). Davis and ace colleagues bass Mike Downes and drummer Ted Warren skip through the genres yet ensure his compositions hold up well, like The Climb with strident chords and the boogified insistence of Sergio's Shuffle. There are occasional surfeits of notes and too-heavy touches. Davis can't remake La Mer but he tears up My Shining Hour and his own Tumba Ron Rumba with his percussive attack.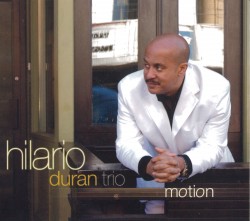 The tight threesome led by Hilario Duran is in sparkling mode (with one horrible exception) in the up-tempo, eight-tune collection comprising Motion (Alma ACD11102 www.almarecords.com). The boss, bassist Roberto Occhipinti and drummer Mark Kelso are totally in sync here, matching intricate lines with spontaneous playing of the highest order. Duran has musical chops to spare but though we enjoy occasional guests he should have stood firm against the vocal and, worse still, the syrupy strings on Havana City. Fortunately there's compensation with the bouncy For Emiliano, the flying title track, the lively Tango Moreno and the speedy version of Timba en Trampa.