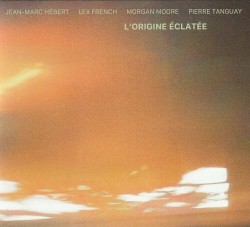 L'Origine Éclatée
Jean-Marc Hébert; Lex French; Morgan Moore; Pierre Tanguay
Independent (jean-marchebert.bandcamp.com)
L'Origine éclatée is an interesting album, and in many ways a rather selfless offering from guitarist Jean-Marc Hébert. It is one thing to have an understated style, or to showcase compositions and ensemble over one's individual prowess, but Hébert truly takes an egalitarian stance with this recording, letting his great band shine on the seven unique original compositions we are treated to. The album doesn't eschew the fact that Hébert is an excellent guitarist, but rather celebrates the trust and confidence he has in his bandmates to interpret his musical vision in a way that is extremely engaging to listeners.
This is the guitarist's third album as a composer and leader, and perhaps this is why Hébert has no problem stepping back and letting his music breathe through his bandmates. Another factor could be that he is classically trained. To me, this training is reflected in his mature and fully realized compositional style, as well as his technique on the instrument. I can't point to a single moment on the album that displays the types of virtuosic shredding so many guitarists are drawn to, but each note Hébert plays is deliberately placed and full of intention.
If you are starved for virtuosity and shredding, you won't be disappointed after hearing trumpeter Lex French's rich contributions to the album. French, bassist Morgan Moore and drummer Pierre Tanguay, are all represented on L'Origine éclatée as features and supporting artists. Check it out for yourself.