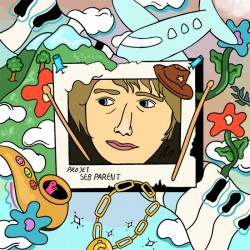 Projet Seb Parent
Sébastian Parent
Independent (projetsebparent.bandcamp.com)
Projet Seb Parent, the debut album of Montreal-based drummer Sébastien Parent, leaves the impression of being long in the making. Tight jabs and stabs from the astonishingly cohesive 13-piece horn section inject the most tranquil of rhythm section passages with adrenaline. These sudden shots are surges of pure energy and chutzpah that leave pregnant pauses in between; fleeting voids of suggestion, soon to be realized. This method of tireless tension building through choreographed involvement places Projet Seb Parent on the small ensemble-big band continuum, clueing in while never quite revealing its exact coordinates. The results of Parent's distinct sound facilitating style: a gleeful grab bag of tuneful goodies that feel equal parts organized and unrestrained.
Mont Saint-Bruno features acoustic fingerpicking, an irresistible shuffle beat, a whimsical trombone melody and an assertive slide guitar solo played by Patrick Bourdon. Bling Bling's unabashed usage of 808s, choppy horns and sub bass simultaneously conjures the approaching menace of a Metro Boomin intro, the vigour of a Comet is Coming beat and bravado of your local brass band. Station Du Collège is an absolute highlight, with Parent himself helming an elusive groove reminiscent of early Tune-Yards, not ever quite fully swinging or straight, which makes the song itself feel like it's constantly lurching forward and backward; reflecting the profoundly danceable quality this whole album possesses.