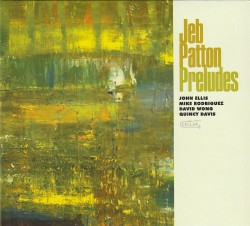 Jeb Patton – Preludes
Jeb Patton; John Ellis; David Wong; Quincy Davis
Cellar Music CM091822 (cellarlive.com)
New York-based pianist Jeb Patton has made a name for himself in the jazz world, having played with famed acts such as Etta Jones, George Coleman, the Dizzy Gillespie All Stars and many more. On this latest release though, we see Patton's compositional and musical talents really shine. The album is chock-full of tunes composed by the pianist himself and features an all-star group of musicians backing him, with renowned names such as Mike Rodriguez on horns, Quincy Davis on drums and David Wong on bass. Born during the dreary times of the pandemic, the record is overflowing with creativity and brings a true, enjoyable musical experience.
Patton grew up in a household where both classical music and jazz were deeply appreciated, with his father being a self-taught pianist. We often think of there being a very strict divisional line between classical and jazz, that the two don't really ever mix and that mindset is just what Patton sets out to change throughout this record. Inspired by his childhood, each of these songs features notable technical elements we would usually hear in classical music blended in seamlessly with swing rhythms and mellow horn solos attributed to jazz. The result? A terrific record end-to-end, showcasing Patton's proficiency in genre-crossing and blurring that distinct line between the two genres. A fantastic record for jazz lovers that love broadening their horizons and delving into new musical territories that they have yet to explore.