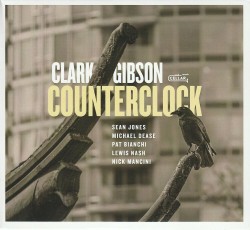 Counterclock
Clark Gibson; Sean Jones; Michael Dease; Lewis Nash; Nick Mancini
Cellar Music CMR111022 (cellarlive.com)
Renowned jazz saxophonist, educator and composer Clark Gibson's latest release is a toe-tapping pick-me-up and a breath of musical fresh air. Featuring a roster of talented musicians such as Sean Jones on trumpet, Pat Bianchi on organ and Nick Mancini on vibraphone, Gibson's sweeping saxophone riffs are supported by a fantastic backing band. This fourth release includes songs that are penned and arranged, for the most part, by the stellar musician himself and his talents as a composer are truly highlighted throughout the record. For those jazz aficionados that like a fresh, modern take on a traditional jazz sound, this is definitely one for your collection.
Gibson reflects, "Counterclock refers to looking back and not discounting art you created in your early stages as an artist." The focus of the album, then, is how the saxophonist came to embrace his compositions from the time that he was just starting out. Throughout the tunes there is a definite continuous, broader theme of "looking back to yesteryear," a hark back to the traditional and appreciating the roots of modern jazz music and many of the greats. Gibson and band have a knack for finding the perfect balance of classic and current, enlivening that jazz sound we've all come to know and love yet adding just enough of a contemporary twist to bring it into today's musical landscape. From start to finish, this album is a sonically pleasing, immersive and snazzy musical journey.