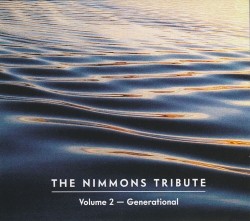 Volume 2 – Generational
The Nimmons Tribute
Independent (nimmonstribute.ca)
While F. Scott Fitzgerald may have opined that there are no second acts in American life, apparently there are second, third and even fourth acts possible in the lives of Canadians, particularly if the Canadian in question is the talented and thankfully, still meaningfully recognized and among us, Phil Nimmons. With Volume 2-Generational, The Nimmons Tribute, under the skilful direction of Sean Nimmons (composer, arranger, producer, pianist and grandson of the now centenarian Phil), again aligns the Nimmons name with musical excellence and uncompromising artistry. And while the artistic conceit of the project is clear, do not be fooled into thinking that the album is the work of an ersatz cover band. Quite the opposite is true in fact, as this recording again shines a light on the ongoing relevance of Nimmons' music.
Continuing the legacy work that began with 2020's To The Nth, this 2023 recording treads an appropriately reverential path in its careful handling of Nimmons' canonic music now interspersed with new compositions by the younger Nimmons, whose fine original contributions to this recording do much to further the legacy of the family name. Supported by an impressive multi-generational cast of jazz musicians representing some of the finest players in Toronto, it is clear that either as a pedagogue (mainly at the University of Toronto, but also dating back to his work at the Advanced School of Contemporary Music), or as a bandleader and jazz community member, Nimmons' impact on the scene has been considerable and his contributions to the canon of great Canadian jazz sacrosanct.