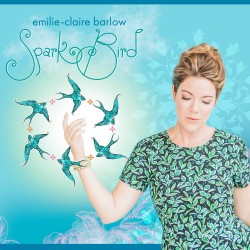 Spark Bird
Emilie-Claire Barlow
Empress Music (emilieclairebarlow.com)
One of the first delights of many upon opening Emilie-Claire Barlow's latest album, is the care that's gone into the design. For those of us who yearn for the days of physical CDs and LPs, Spark Bird delivers with a full package, including charming illustrations by Caroline Brown.
The second thing that struck me was what a happy album Spark Bird is. For a project that was mostly produced during a pandemic, one might expect a little less joy. But it seems that spending a large part of her time on the west coast of Mexico enabled Barlow to slow down, listen and be inspired by the nature around her. This gorgeous ode to our bird friends is the result.
The opening tune, Over the Rainbow, with Barlow's warm, flawless vocals, feels like comfort food in musical form. Drawing on the maestro of joy, Stevie Wonder, and samba-fying Bird of Beauty, is inspired.
Even the melancholic moments can be uplifting when they're as musical as Skylark, the Hoagy Carmichael/Johnny Mercer classic. The arrangement is a masterclass in how to reharmonize interestingly without venturing too far from the original. Credit for it goes to Reg Schwager (Barlow's long-time collaborator and guitarist) and Steve Webster (who mixed and mastered the album) as well as Barlow herself. Coldplay's heartbreaker, O, is no less masterfully rendered, courtesy of Amanda Tosoff's piano playing and arranging, Drew Jureka's strings and Rachel Therrien's haunting trumpet solo.
It's been five years since Barlow graced us with an album, but she's been anything but idle. As head of her own record label, Empress Music, plus half of the duo, Bocana, that's been steadily releasing singles, Barlow is a busy lady. So, as terrible as a worldwide health crisis is, the fact that it enabled artists to slow down, smell the roses – and listen to the birds – is something for which we can be grateful.