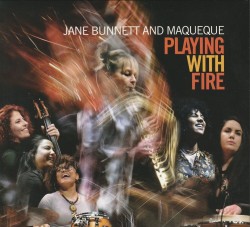 Playing With Fire
Jane Bunnett & Maqueque
Linus Entertainment 270788 (janebunnett.com)
Innovative and consummate reed player Jane Bunnett has long been considered an unofficial Canadian Jazz Ambassador – particularly with regard to her deep relationship with Cuba and its music. The founding of Maqueque, a burning, all-female ensemble, occurred a decade ago, following a jam session in Havana with an array of talented, musician/composers and graduates of the Cuban Conservatory. The seasoned, award-winning group has travelled the world, and now includes vocalist Joanna Majoko from Zimbabwe, as well as artists from the Dominican Republic, Latin America, Spain and Lebanon. Produced by Larry Cramer, this latest release is beyond stunning.
First up is Human Race (Bunnett/Grantis), a solid groove replete with a facile soprano solo from Bunnett and fine support from bassist Tailin Marrero and Donna Grantis on electric guitar. A standout track is Bud Powell's Tempus Fugit, featuring pianist Dánae Olano as well as gymnastic vocal scat sections from Majoko and Bunnett on flute. The lighter-than-air Daniela's Theme, composed by and featuring Olano on piano, with her sister Daniela on violin, also includes a fine group vocal accenting traditional rhythmic motifs. Turquesa/Turquoise (Bunnett/Grantis) is a percussive, vocal and lyrical tour de force replete with another fine solo/call and response between Bunnett and Majoko.
Other delights here include Marrero's Bolero a un Sueno, a ballad of rare luminous beauty and Charles Mingus' Jump Monk – marvellously arranged to reflect upon and celebrate Monk's and Mingus' mutual quirky approach. Percussionist Mary Paz is absolutely incendiary on this track. The closing title song, also written by Bunnett and Grantis, features the ensemble in a composition of complexity and multiple musical motifs, coalescing in an exuberant expression of energy, power and pure joy.