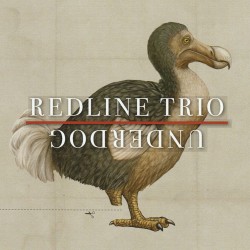 Underdog
Redline Trio
Chronograph Records CR 102 (redlinetrio.com)
Between the self-deprecating title Underdog and the extinct Dodo bird with one leg cut off as a cover image, the message being beamed at the listeners antennae could well be: "Help! We're stuck in the past." In truth, however, the forward-thinking musicians of the Calgary-based Redline Trio and their celebrated British Columbia associates, present their set, tongue firmly in cheek. The only thing that this music harks back to is a kind of creativity sans gratuitous virtuosity, which is often seen as a thing of the past.
Unfolding in six short songs, each with a simply (sometimes) evocative title, is the imaginative music captured on a recording of considerable creativity. Composed by all the band members – saxophonist Mark DeJong, bassist Steve Shepard and drummer Jeff Sulima, and guests, trumpeter Brad Turner and pianist Steve Hudson – the musical stream of ideas unfolds with energy and vitality.
The Redline Trio is harmonically anchored by pianist Hudson and the horns soar with acoustically aerodynamic figures and patterns, gliding along nicely. Shifts occur through rapid changes in direction of rhythmic temperature. (Cue No Limes for Jeffery, The Waltz and the album's pinnacle Underdog that closes the set.)
The group's source of inspiration is certainly swing and time, and there is plenty of this reverberating throughout the recording. But the music here bodes well for the future of jazz.