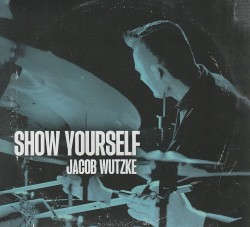 Show Yourself
Jacob Wutzke; Lucas Dubovic; Gentiane MG; Levi Dover; Caity Gyorgy
Independent (jacobwutzke.com)
Show Yourself is an exciting new release from Montreal/Toronto-based drummer Jacob Wutzke. This is Wutzke's first full-length album as a leader, and it encapsulates all the obligatory energy and excitement of a debut album in a mature and thoughtful package.
In many ways this recording avoids the traps of being a "drummer album," but when it does enter that realm its ample exciting musicianship will keep listeners of all persuasions entertained. Another potential snare that this album manages to circumvent is that of lengthiness. There are a mighty 11 tracks on Show Yourself, the longest being over seven minutes in duration, but the overall feeling I have after a complete listen-through is one of pleasant variety rather than longwindedness.
Right from the starting track How do You Mean?, listeners are treated to music that is straight-ahead without hanging onto overly traditional aesthetics. This lovely contrast is reflected in Wutzke's personnel choices for the album too, with core band members Lucas Dubovik, Gentiane MG and Levi Dover all finding common ground as a unit. Vocalist Caity Gyorgy makes an appearance on the album's final track, a contemporary yet swinging version of the jazz standard My Shining Hour. Gyorgy also produced the album, which is a testament to the powerhouse musical and personal relationship she shares with Wutzke.
To return to my previous "drummer comments," this album sounds the way many drummers aspire to play: precise, yet organic. Surgical exactitude needs not sacrifice expressiveness, and Show Yourself is a perfect reminder of this.