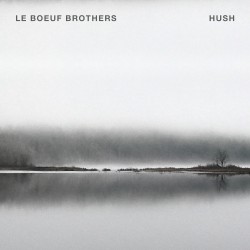 Hush
Le Boeuf Brothers
Soundspore Records (leboeufbrothers.com)
Pascal and Remy Le Boeuf are identical twin brothers who have worked individually and together to produce innovative music which is mainly composed, but also includes many spaces for improvisation. HUSH is a quieter and more intimate work than many of their previous albums and uses a quintet with Remy on alto saxophone, Pascal on piano, Dayna Stephens on tenor saxophone, Linda May Han Oh on upright bass and Christian Euman on drums. This is a true collaboration as 12 tracks are written by Pascal and eight are by Remy.
Most works are shorter and are specific to the brothers' interests. For example, Wedding Planning was composed by Pascal to display their excitement over both brothers' marriage celebrations. Oblique Two-Step by Remy begins with a simple piano melody with bass and drums that evolves into a dialogue between the two saxophones. The liner notes describe Soot as "a chorale ... searching for something that has been burned away" and Pascal's gorgeous alto sax makes it one of the most beautiful songs on the album. HUSH is a quiet and graceful work full of variety and nuance.