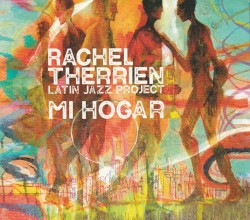 Mi Hogar
Rachel Therrien Latin Jazz Project
Outside In Music OiM2307 (outsideinmusic.com)
Wanting a mini-vacation from these dark and dreary winter days, imagining sunny beaches and a sparkling blue sea? Montreal native, star flugelhornist, trumpeter and bandleader Rachel Therrien's newest album is for you. Sultry rhythms and mellow melodies instantly transport the listener to a far-away world where the sun shines and the balmy breeze blows. Therrien has gathered top musicians who have been involved with the Latin jazz world over the years, including Michel Medrano Brindis on drums, Miguel de Armas on piano, Roberto Riveron on bass… the list goes on. The record features fresh takes on classic tunes by greats such as Dizzy Gillespie, John Coltrane and Francisco Tarrega with a few of Therrien's own compositions thrown into the mix.
The impressive bandleader has always been inspired by the world of Latin jazz, which led to the eventual recording and release of this album. Therrien describes her travels to Cuba: "The experience changed my life and is probably the reason why I am still a musician today. I always felt good playing Latin-influenced music, it is where I feel I can express myself the most musically." A couple of pieces that stand out are Moment's Notice, a rhythmically charged, spicy little ditty that instantly raises the spirits of the listener and Mojo, featuring a fiery piano solo and funky bass line underpinning a soaring horn solo that gets you moving and grooving. A truly worthy addition to any jazz connoisseur's collection.