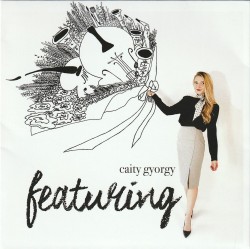 Featuring
Caity Gyorgy
La Reserve Recordings (caitygyorgy.com)
With the opening barn burner, I Feel Foolish, singer-songwriter Caity Gyorgy puts us on notice of what's to come on Featuring. It's the first of many compelling songs she's written for her latest release, and what's to come is 13 tracks of vocal virtuosity and genuine jazz, ranging in style from swing to cool to bebop.
Backed up by a hard-swinging trio (Felix Fox-Pappas, piano; Thomas Hainbuch, bass; Jacob Wutzke, drums) with guest appearances by guitarist Jocelyn Gould (who does a gorgeous duet with Gyorgy on the ballad, I Miss Missing You), fellow young phenom singer, Laura Anglade and a long lineup of horn and woodwind players, including Pat LaBarbera and Virginia MacDonald. Gyorgy solos effortlessly and extensively along with the master instrumentalists, but never sacrifices warmth or musicality for adroitness. Storytelling wins out even when vocal gymnastics are dazzling us, as they do on A Moment, featuring the remarkable Allison Au on sax. My Cardiologist is a masterclass on how to be both light-hearted yet seriously musical, with its witty take on what love does to our hearts.
The accolades continue to pile up for Gyorgy since her debut release two short years ago, as she made Best of 2022 lists and won a Juno Award. I'm looking forward to seeing the rest of the world catch on as this homegrown talent expands her reach through tours in the U.S. and beyond. Track her progress at caitygyorgy.com.