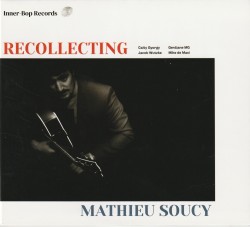 Recollecting
Mathieu Soucy
Inner-Bob Records (mathieusoucy.com)
Young jazz guitarist Mathieu Soucy, a recent graduate of McGill and a Montreal native, showcases his prolific compositional and technical skills on this debut album. Soucy adds his own twist to the songs, managing to both create a beautiful hark back to the eras of swing and bop while also bringing them into current times; making for a new classic of sorts. The record features an excellent set of musicians, with Gentiane MG on keys, Mike De Masi on bass, Jacob Wutzke on drums and Caity Gyorgy on vocals. Most pieces are penned by the guitarist himself with a couple of fresh takes on well-known jazz classics mixed into the musical pot pourri.
Lennie's Changes starts off the album with catchy, toe-tapping energy; fast-paced bass runs and a constant, driving beat keep this captivating little number moving until the last note fades. Where or When is a spiffy take on the Rodgers and Hart classic, featuring the sultry and mellow vocals of Gyorgy with Soucy's talents as a guitarist splendidly coming to the forefront within the piece.
The fascinating thing about this album is how Soucy manages to make these pieces sound as if they could have been written back in the golden era yet also fit incredibly well into the current musical landscape. With this invigorating album, the up-and-coming young guitarist shows that he definitely has more in store for the future.