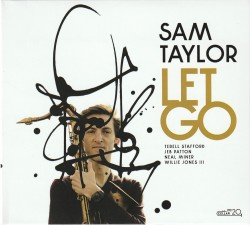 Let Go
Sam Taylor; Terell Stafford; Jeb Patton; Neal Miner; Willie Jones III
Cellar Music CM013122 (cellarlive.com)
Philadelphia native, tenor saxophonist Sam Taylor has a pure joy for both playing and writing music which shines through phenomenally on his latest release. Recorded at the legendary Van Gelder Studios in Englewood Cliffs, New Jersey, Taylor has managed to capture that aforementioned joy within each of these pieces and send it right to the ears and hearts of listeners; it's impossible to not smile while listening through. The talented musician has brought together his musical heroes and inspirations in his backing band, featuring Terell Stafford on trumpet, Jeb Patton on piano, Neal Miner on bass and Willie Jones III on drums. The pieces are uplifting and fresh takes on jazz classics with one song penned by Taylor himself.
The record is a ray of musical sunshine that brightens up the dreariest, grey winter days from the first note. A perfect balance of slower, mellow tunes and fast-paced, head-bopping ones make for an ear-pleasing, all-encompassing musical journey to satiate that itch for fresh music that you didn't quite know you had. Luminescence stands out as a particularly energetic and snazzy piece with fantastic solos peppered throughout, showcasing each musician's fine talents. Bye Bye Baby, a fitting title to end the record, leaves the listener with a sense of hope and positivity for the future as well as a curiosity to see what this prolific saxophonist comes up with next. A great addition to the jazz aficionado's collection!