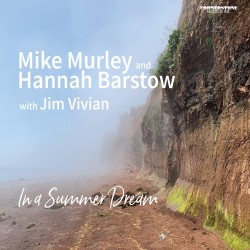 In a Summer Dream
Hannah Barstow; Mike Murley; Jim Vivian
Cornerstone Records (cornerstonerecordsinc.com)
There can be no question that the creative pairing of pianist, vocalist and composer Hannah Barstow with saxophonist/composer Mike Murley is beyond inspired… and the addition of eminent jazz bassist Jim Vivian is not only the perfect complement to Barstow and Murley, but also to the superb, eclectic selection of rarely performed tunes and the two original compositions here. Barstow and Murley serve as producers, innovatively arranging works from such diverse artists as Johnny Mandel, Nat Adderley, Johnny Mercer and Michel Legrand.
The program kicks off with Mandel's Don't Look Back – which features a haunting, delicate melodic line as well as masterful playing from Barstow who has put her own swinging stamp on this Broadway tune. Her pitch-perfect, rhythmic jazz vocal style adds another dimension to the meaningful lyric, while Murley and Vivian eminently support Barstow throughout. Barstow's intonation, tone, lyrical interpretation and respect for the melody is worthy of a vocal master class – and the sooner the better!
Who Are You comes from iconic trumpeter/composer Kenny Wheeler. The tenor solo opening gently segues into Barstow's stunning vocal line. Murley sings through his tenor, effortlessly creating an aura of musical intimacy, and Vivian's skilled and moving bass solo takes us deeper on the trip. From the inspired minds of Legrand and Mercer, comes Once Upon a Summertime, replete with a sumptuous solo from Murley. Of special note is Barstow's original title track, which calls to mind the vocal style and musicality of the great Norma Winstone. By any musical criteria, this is one of the finest jazz recordings of the year.