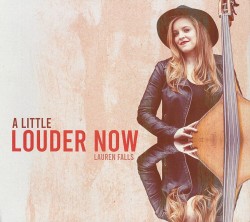 A Little Louder Now
Lauren Falls; David French; Trevor Giancola; Todd Pentney; Trevor Falls
Independent (laurenfallsmusic.com)
With her second dynamic salvo, gifted and accomplished bassist and composer Lauren Falls has fired off a fine recording comprised almost entirely of original tunes. Joining her is a superb ensemble, including Todd Pentney on piano, Trevor Giancola on guitar, David French on tenor saxophone and Trevor Falls on drums. First up is New View – a languid, sensual trip, grounded by Pentney's perfectly insistent chordal movement and Giancola's incredible touch and taste on guitar – which brings to mind the great Jim Hall or Mundell Lowe. French's warm, substantial sound perfectly parenthesises the almost hypnotic tonal modalities of the composition.
The well-conceived title track absolutely grooves with intent and prominently displays the artistry of each musician. Falls is rock solid, and her superb bass work not only permeates the musical landscape, but it deftly leads her group through this evocative tone poem. Drummer Falls not only embodies seamless, perfect dynamics, but additionally manifests the ideal diaphanous support of his sister's gorgeous solo. Disagree to Disagree is an outstanding effort, rife with emotional content, exploring both longing and resolution. French weaves his tenor in and out of the composition, with clever improvisations that underscore the contrapuntal aspects of the tune.
Another standout is Take Me. This track lilts along with pure joy, and the duet sequences between tenor and guitar are almost breathtakingly beautiful, as is Pentney's piano solo. The closer, Vincent Youmans' venerable Tin Pan Alley classic, I Want to Be Happy is presented here with a fresh, contemporary twist, featuring some interesting non-standard chord changes that perfectly illustrate the cognitive dissonance of the search for personal happiness in a seemingly cold, rigid, unforgiving world – just as it was in the Great Depression.