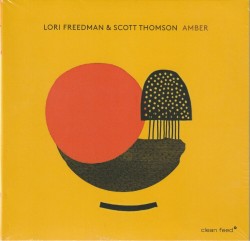 Amber
Lori Freedman; Scott Thomson
Clean Feed CF606CD (cleanfeed-records.com)
In a mundane word, amber is just a fossilised tree resin with a prescient glow. However, in the hands, tongues and lips of clarinetist Lori Freedman and trombonist Scott Thomson Amber is a many-splendoured metaphor redolent of golden colours and tones that define more than merely their duelling instruments. With the repertoire on this album, the music of Amber evokes a kind of Romance language with which to connect with the very heart of the music continuum.
From start to finish both clarinetist and trombonist create a high-spirited and lyrical palimpsest featuring some truly beautiful writing and daring improvisation. With each variation the two musicians penetrate aspects of amber with strength, precision and charming, idiosyncratic virtuosity.
You'll be made to forget that works like Sesquiterpenoids, Glessite, Succinite and Labdanoid have anything at all to do with nature, aglow with resins and hydrocarbons that have formed over centuries since the before the Neolithic Age. Instead you will be dazzled by each piece; an idiomatic meditation suggestive of a proverbial melody imbued in amber.
Listening to Freedman's and Thomson's performances you would not stop marvelling at how two artists use their musicianship – albeit uncommonly ingenious – to reflect the vitality and many-layered originality of this music. And how bellowing B-flat and bass clarinets and growling trombone can turn the artists' metaphor into music with a sensuousness and voluptuous beauty all its own. Bravo to both for this visionary music.