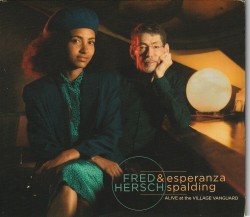 Alive at the Village Vanguard
Fred Hersch; esperanza spalding
Palmetto PM2208CD (orcd.co/aliveatthevillagevanguard)
If you knew that you were going to a concert that paired Fred Hersch with esperanza spalding, you'd be fairly sure that sparks were going to fly on stage. Throughout his career Hersch has been one of the most imaginative musicians whose pianism bristles with almost insolent virtuosity. Spalding, better known as a virtuoso contrabassist, has also begun to dazzle listeners with her puckish voice which she has wielded to seduce and dazzle audiences in a manner that combines musicality and ingenuity far beyond her young years.
Together the two musicians become a formidable duo that explores music on Alive at the Village Vanguard with virtuosity, refreshing charm and borderless scope. If you find yourself believing that Sheila Jordan and Steve Kuhn created a seemingly unreachable standard when it comes to the piano-voice duet you will surely be in for a wonderful surprise. Hersch and spalding have not simply reached, but cleared the proverbial bar with space to spare.
Spalding may not tell jazz stories about Charlie Parker with the kind of veracity of Jordan, but she (spalding) makes up for everything with her airborne delivery. She effortlessly propels song lyrics into airy parabolic trajectories infusing them with luminous tone textures along the way. A case in point is the epic version of Parker's Little Suede Shoes. Meanwhile with Girl Talk, she seems to have the audience eating out of her hands as she weaves a marvellous yarn. Hersch is agile and brilliant throughout.