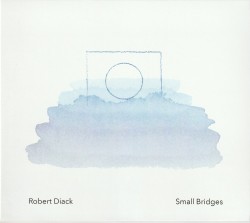 Small Bridges
Robert Diack; Patrick O'Reilly; Jacob Thompson; Brandon Davis
Independent (robertdiack.com)
Toronto-based drummer, composer and producer Robert Diack has released a scintillating sophomore album, taking the listener on a meandering journey through genres. The record is finely tuned throughout, a true audiophile's dream; a sonic landscape emerges right in front of the listener and instantly transports them to another musical dimension. All pieces are penned by Diack himself along with occasional co-writers from amongst the band, truly showcasing the young drummer's compositional talents as well as unique conceptualizations reflected within his music. The cream of the crop of famed young Canadian musicians have been gathered together for this album: Patrick O'Reilly on guitar; Jacob Thompson on piano; and Brandon Davis on bass. A perfect companion to the picturesque scenes and landscapes of autumn, this is a great addition to the explorative jazz-lover's collection.
The album draws upon influences from several genres, including both contemporary and traditional jazz, post-rock, fusion and country; blending them together and transitioning between them seamlessly. The result is a poignant hodgepodge, evoking a mix of emotions and images in the mind's eye within every track. Diack himself has said that with this set of tracks, he "wanted to explore a broader swath of genre and texture" and delve into a diverse musical landscape, which he does brilliantly. Beautiful, captivating melodies layered over complex rhythms make for a must-have for the jazz aficionado who wants a true sonic experience.