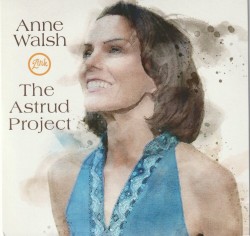 The Astrud Project
Anne Walsh
A to Zinc Music (annewalsh.com)
Now that the dog days of summer have passed and the transition into chillier fall weather has occurred, a warm little pick-me-up may be much appreciated. What better way to do that than with a fresh bossa nova album, a time-travelling musical journey back into warmer, joyful times. Massachusetts-native, jazz vocalist Anne Walsh's latest release transports the listener right to sunny Brazil through blazing interpretations of bossa nova tunes popularized by Astrud Gilberto. The classic mellowness and rhythmic complexity attributed to songs from the aforementioned genre come through incredibly well, brought even more to the forefront through superb audio quality and a certain spaciousness heard throughout the album. A sizeable group of talented musicians boost this record to new heights, featuring well-known names like Mitchell Long, Tom Zink and Kevin Winard.
Walsh's excursion into bossa nova began when she penned lyrics to Gilberto's scatted Não Bate O Coração. This led to her further fascination with Gilberto's catalogue of songs and so this record, including compositions by the renowned Antonio Carlos Jobim, was born. The talented vocalist's airy and sweet timbre contribute to her unique interpretation and take on these classic tunes; less rhythmically centred vocals than typically heard in the genre bring to the forefront the more melodious and dulcet facets within the pieces. Fans of bossa nova and jazz will be thoroughly pleased with this album as a whole, a worthy record for any collection.