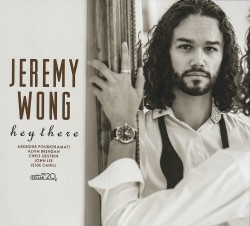 Hey There
Jeremy Wong; Ardeshir Pourkeramati; Chris Gestrin; John Lee; Jesse Cahill; Alvin Brendan
Cellar Music CM100321 (cellarlive.com)
With the release of his debut CD, compelling jazz vocalist Jeremy Wong has arrived on the scene with a rather marvelous recording, loaded with content, talent and of course, Wong's evocative, mellifluous and finely honed vocal instrument. The Vancouver native also wears the producer's hat here, and his talented ensemble includes Chris Gestrin on piano, John Lee on bass, Jesse Cahill on drums, Alvin Brendan on guitar and gifted arranger/co-writer and tenor saxophonist, Ardeshir Pourkeramati.
There are ten compelling tracks, all drawn from the Great American Songbook, American cinema, the Broadway stage and the pens of some of the hippest jazz composer/lyricists who have graced our planet. Wong also contributes two original compositions with both melodic appeal and clever lyrics. The opener is Rodgers and Hart's classic Where or When. A lovely guitar/vocal intro swings into a sumptuous quartet arrangement, and Wong's sibilant, sensual and perfectly intoned tenor/baritone vocal sound is reminiscent (but not derivative of) Chet Baker, Kurt Elling and Mark Murphy. On Invitation, the band is tight and filled with gravitas, as they move like a single-celled being through this challenging jazz standard, with the vocal line punctuated perfectly by Pourkeramati's dynamic sax work.
Only a Dream, a charming original waltz that deftly dances us through the sadness of a lost love, features a fine bass solo from Lee. Other delights include a fine arrangement of Frank Loesser's Never Will I Marry, which clearly displays Wong's ability to swing and scat. A total standout is the rarely performed gem from Fran Landesman and Tommy Wolf, Spring Can Really Hang You Up the Most. Wong's maturity as a vocalist is clear here, as he imbues meaning into every word, and effortlessly sails through the rather gymnastic melodic line. A fine debut from a highly talented emerging jazz vocalist!