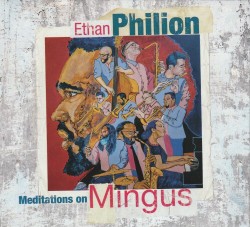 Meditations on Mingus
Ethan Philion
Sunnyside Records SSC 1666 (ethanphilion.com)
Just in time for iconic bassist/composer Charles Mingus' centennial celebrations, noted Chicago-based bassist and arranger Ethan Philion has released Meditations on Mingus, a stunning collection of Mingus' most seminal compositions, arranged by Philion and featuring a talented all-star tentet of which the core trio is Philion on bass, Alexis Lombre on piano and Dana Hall on drums.
Mingus was a complex and contradictory individual – an eccentric genius, a poet, a powerful, muscular bassist, a social activist and also someone who coped with severe mental health issues – and it was all part of his unique, creative mojo. Philion, has said: "My goal was to put together a program of pieces that speak to current events; racism, prejudice, identity, economic inequality are all still relevant in the world today."
The opening salvo, Once Upon a Time There Was a Holding Corporation Called Old America, begins with trumpeters Russ Johnson and Victor Garcia's legato intro, which morphs into a paroxysm of angst followed by bold, chordal configurations and ultimately a swinging and joyous romp that then descends into chaos. Lombre's exceptional piano work here is both skillful and breathtaking. Other highlights include Self Portrait in 3 Colors – a reflection of Mingus' feelings about mental health, replete with a gorgeous solo from Johnson; Meditations for a Pair of Wirecutters – a flag waver for Mingus' noted mid-1960s sextet (the band that propelled Philion into this project), and the final track, Better Git It In Your Soul, which is a superb interpretation of Mingus' funky, soulful anthem, rendered here with all of the swing and heart possible. Mingus would be proud.