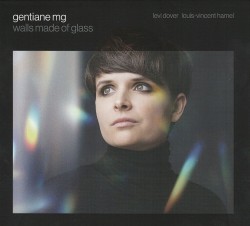 Walls Made of Glass
Gentiane MG
Three Pines Records TPR-009 (gentianemg.com)
Gentiane Michaud-Gagnon (known as Gentiane MG) is a pianist and composer who has released her third album, Walls Made of Glass, with Levi Dover on bass and Louis-Vincent Hamel on drums. Walls Made of Glass is also this group›s third album together and their intimate communication adds subtlety and nuance to every track.
MG's influences are classical composers such as Debussy and Chopin and jazz masters like Keith Jarrett and Chick Corea. The Moon, the Sun, the Truth opens with a minor repeating pattern on piano which moves into a more strident chordal section supported by drums and bass. In this, and other compositions, MG moves between written and improvised sections and it is sometimes difficult to separate the two. This strategy gives her jazz pieces a more classical structure where freer sections alternate with repeated themes. Flowers Laugh Without Uttering a Sound has a swirling solo piano intro, then the bass and drums enter to nail down a solid backbeat, the solo piano repeats, then the jazz beat and angular piano chords give way to a more traditional piano solo. Eventually the piece builds into an intense drum solo before the swirling chords come back to fade into the distance.
Walls Made of Glass is highly original music and deserves our thoughtful listening.