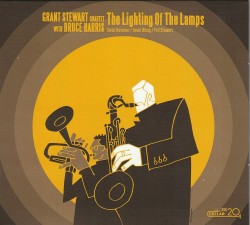 The Lighting of the Lamps
Grant Stewart Quartet w/Bruce Harris
Cellar Music CM110521 (cellarlive.com)
Picture the city at dusk, a shroud of darkness blanketing the bustling life within, bringing a certain air of mystery and veiled passion. The collection of tunes on famed tenor saxophonist Grant Stewart's newest release calls forth images just like that in the listener's mind. The tenorist himself mentions that listening back on this session, he was "reminded not of daybreak but rather, dusk… as the city becomes a buzz of activity once more." Stewart has gathered a group of top tier musicians to bring these pieces to life; Bruce Harris on the trumpet, David Wong on bass, Tardo Hammer on piano and Phil Stewart on drums. The songs are mostly original compositions, arranged by the likes of Elmo Hope and Thad Jones. For the jazz lover looking to add a little pizzazz to their collection, this is a record to get your hands on.
For musicians, the nightlife is when things really start moving, when the magic truly starts happening. This album is filled with a sense of new beginnings, teetering on that border of exciting tension just waiting to spill over into passionate energy; just as the approach of dusk brings a "second awakening" to the city. Tunes like Little Spain and Mo Is On are spectacular examples of the quickness and vigour of city life whereas Ghost of a Chance is a representation of the other side of nightlife, the mellowness and suppressed desires.