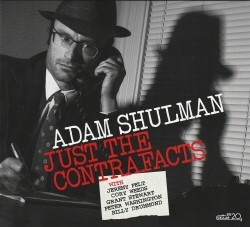 Just the Contrafacts
Adam Shulman; Jeremy Pelt; Cory Weeds; Grant Stewart; Peter Washington; Billy Drummond
Cellar Music CM110321 (cellarlive.com)
The pandemic was a hard hit on the music industry, with the absence of live music and limited use of physical studio spaces. But it also ended up being a chance for several musicians to produce "COVID albums," many of which are excellent examples of how music can be a voice and outlet during the toughest of times. Renowned pianist Adam Shulman's newest release is an example of a stellar album born out of lockdown. A hark back to traditional jazz, with a certain whimsical and hopeful twist added, this collection is a surefire way to get your head bopping along on the darkest of days. All tunes are penned by Shulman himself; a backing band of fantastic musicians featuring Jeremy Pelt on trumpet, Billy Drummond on drums and Cory Weeds on alto saxophone, among others, allows these tunes to soar to new heights.
What makes this album unique is the fact that these songs are all contrafacts as the title of the record suggests, meaning "new melodies [written over] the chord structure of standard tunes" or borrowed chord progressions. Shulman has masterfully added soaring and catchy new melodies overtop chord progressions taken from songs from the Great American Songbook, adding his own unique mark to them. These pieces are filled with a lightness and playfulness, an "[escape] to different times," letting the listener be carried away from hardships as only the power of music can do.