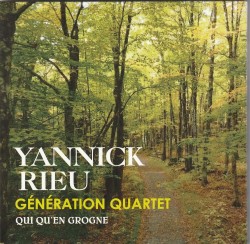 Qui Qu'en Grogne
Yannick Rieu Généération Quartet
Yari Productions YARICD2022 (dev.yariproductions.com)
Montreal-based multi-saxophonist and composer, Yannick Rieu, has long been recognized as a significant contender on the world jazz stage, evoking (but not derivative of) greats such as Lee Konitz with big helpings of Sonny Rollins' lyricism. Rieu is joined here by his Génération Quartet, so named as the group is comprised of both emerging and established jazz artists: Gentiane Michaud-Gagnon on piano; Guy Boisvert on bass and Louis-Vincent Hamel on drums.
The title track is an archaic, 15th-century French expression, meaning "I don't care what people think about what I'm doing," which certainly informs the ethos of creative freedom, open inter-generational communication and the fearlessness of Rieu's eight original compositions, as well as the fine musicians performing them. This track is replete with a spunky call and response and a contrapuntal, elastic and satisfying melodic line – a tune in search of a cinema noir film (in French or English)!
Time is, Life Was is another outstanding track – a lovely ballad, featuring sumptuous chord changes and lighter-than-air motifs from Rieu and Michaud-Gagnon. When the full rhythm section enters, bassist Boisvert is front and centre with a pensive and melancholy solo, rife with emotional content.
Le Philosophe is a gem – stylistically bi-locating between the very roots of improvisational jazz and the distant limits of musical possibilities – and Prétexte demonstrates a quirky bebopish sense of humour and delight. Another standout is the stark and beautiful Pharaon, calling to mind Bill Evans and an imaginary collaboration that he might have had with Steve Lacey. The closing track, Porta di cinese includes a stunner of a solo by Michaud-Gagnon and synergous ensemble work.