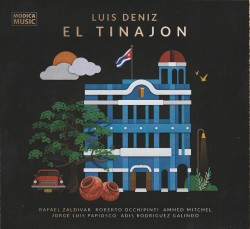 El Tinajon
Luis Deniz; Rafaelo Zaldivar; Roberto Occhipinti; Amhed Mitchel; Jorge Luis Papiosco; Adis Rodriguez Galindo
Modica Music (modicamusic.com)
Since his arrival from Cuba, saxophonist and composer Luis Deniz has placed his distinctive mark on both the Canadian and international jazz scenes. His warm, distinctive and technically skilled sound on alto and soprano saxophones is celebrated here with the release of his new recording – which embraces his emotional journey from a young Cuban émigré to a highly respected jazz stalwart. Deniz's gifted compadres here include pianist/keyboardist Rafael Zaldivar, bassist Roberto Occhipinti, drummer and vocalist Ahmed Mitchel, vocalist Adis Galindo and percussionist Jose Luis ("Papiosco") Torres. All nine evocative and powerful compositions on this superb collection were composed by Deniz and deftly produced by noted pianist Teri Parker.
The title refers to a type of clay pot, brought to Cuba by the Spanish, which eventually became the trademark of the province of Camaguey – Deniz's culturally rich and soulful place of origin. The opening salvo, Reflexiones is rife with languid, riveting tones from Deniz's horn that drive the ancient rhythmic modalities with inspired and emotional improvisational sequences channelling the very pulse of Mother Earth herself. This seamlessly segues into La Ceiba de Mayuya, a swinging contemporary jazz exploration featuring a dynamic acoustic bass solo by Occhipinti.
Of particular note is Rumba para Camaguey/Equality – a sumptuous, lyrical duet performed by Deniz and Zaldivar. Bolero is almost unbearably beautiful, plummeting the depths of sensuality and Gesture adapts the mood by generating pure joy, enhanced by the unison piano/vocal line, masterful piano work and Deniz's dazzling compositional style. Also of special note is the thoroughly lovely Dutch Flower, dedicated to Deniz's talented wife. The rousing closer, Conga para Florida is nothing short of magnificent with dynamic soprano work, an indigenous percussive melange and delicious vocals.