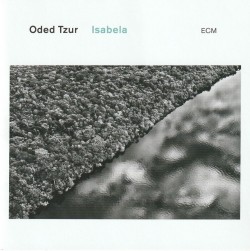 Isabela
Oded Tzur; Nitai Hershkovits; Petros Klampanis; Johnathan Blake
ECM 2739 (odedtzur.com)
On the questing music of his album the eloquent saxophonist Oded Tzur pours out a range of feelings possibly dedicated to his muse – Isabela – together with a quartet (featuring pianist Nitai Hershkovits, contrabassist Petros Klampanis and drummer Johnathan Blake) which interprets the music's lyrical profundity. The five songs – or movements, perhaps – on this meditative album brood, sing, dance and soar heavenward.
Throughout this expressive music, Tzur's lead tenor saxophone voice exquisitely intones his aural emotions glazed with evocative Phrygian modes. The rest of the ensemble follows suit as if they were written into Tzur's music too. Each of the artists shows immense sensitivity for the composer's feelings. Thus the repertoire on the album Isabela unfolds with warm and sweeping beauty.
In Noam and especially in Isabela (the song), for instance, every phrase is vibrantly sculpted and placed within the context of eloquent conversations among piano, bass and drums. Countering the moist tenor of Tzur's saxophone and the cascades of Hershkovits' piano is the low rumble of Klampanis' contrabass and the hiss and sizzle of Blake's cymbals. This makes for some of the most sensitive performances on the album.
On Love Song for the Rainy Season Tzur reveals uncommon depth of thought and musical ingenuity as he weaves disparate Middle Eastern and Asian influences into the music. The other musicians remain alert to nuance and dynamic contrasts, providing requisite quotas of passion.