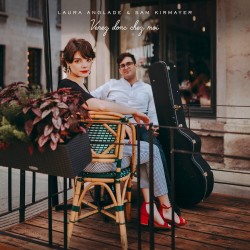 Venez donc chez moi
Laura Anglade; Sam Kirmayer
Justin Time (justin-time.com)
Francophone jazz lovers rejoice. Laura Anglade and Sam Kirmayer have released an album of 11 songs, entirely in French. The French-American singer, now based in Toronto, and the Montreal-based guitarist collaborated on this collection of classic songs from the not-too-distant past made famous by artists such as Barbara and Charles Aznavour. Unadorned by other instruments (except for accordion on two tracks) or fancy production tricks, Venez Donc Chez Moi (So Come to My House) is simply two exceptional musicians presenting beautiful songs. Some swing gently, but ballads dominate and Anglade's gorgeous voice and Kirmayer's solid and sensitive guitar accompaniment handily navigate all paces and styles.
Both Kirmayer and Anglade get in some brief, melodic improvisations – not easily done in such a stripped-down environment – otherwise the songs are delivered in a straightforward, true-to-the-original manner. The most familiar songs (to this Anglophone) are Michel Legrand's La Chanson de Maxence (You Must Believe in Spring) and La Valse des lilas (Once Upon a Summertime), which evoke sweet melancholy. But really the whole album is like a lovely time-out from today's harsh reality. Pull up a café chair and let yourself be swept away.
Anglade and Kirmayer have many live performances coming up, separately, in Canada, the U.S. and Paris. Check samkirmayer.com and lauraanglade.com for dates.