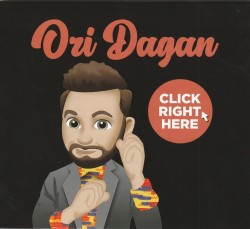 Click Right Here
Ori Dagan
Scat Cat Productions ODCD04 (oridagan.com)
Multi-talented jazz vocalist Ori Dagan wears a number of hats on his latest recording, including composer. Dagan wrote nearly every track, often in collaboration with a coterie of fine artists, including Jane Bunnett, Nathan Hiltz, Mark Kieswetter and Erik Flow. Guitarist Hiltz also serves as musical director here, and is joined by a septet of A-List musicians as well as guest artists Bunnett on flute and soprano sax, rapper Flow and vocalists Simone Denny and Donovan Locke.
Much of the material here was written with a witty, contemporary, Cole Porter-ish social media-centric skew. Kicking things off is Viruses, which boasts fine horn arrangements by Hiltz and Hennessy, as well as a groovy cool, up-tempo perspective with fine alto soloing by Alison Young coupled with Dagan's fine delivery of the clever lyrics. Also tasty is Clicked on Romance, which boasts a distinctive Les Paul-ish country-swing flair. Dagan bobs and weaves confidently throughout the delightful melody and engaging lyric, making wonderful use of his powerful lower register.
Would You Swing My Way is a truly outstanding track, a beautiful legato verse segues into a delicious bebop ballad. Cleverly arranged with several different time signatures, the listener is constantly engaged and mesmerized and Hiltz solos with his customary elegance and skill. Going that Counts (for Ella) is a tribute to the legendary Ella Fitzgerald and in her honour, Dagan and Locke scat like crazy at breakneck speed, while Colleen Allen wails on tenor. One of the most intriguing tunes on the recording is Dagan's composition, Rebirth of the Cool. The lyric is filled with imagery and purpose, not unlike the work of the late Jon Hendricks, and lauds the art form of jazz in all of its many colours, as does the recording itself.