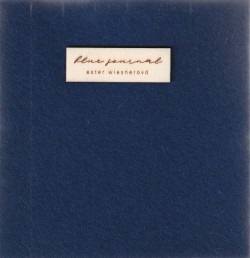 Blue Journal
Ester Wiesnerova
Independent (esterwiesnerova.com)
The eloquent vocalist Ester Wiesnerová bids you to sink into her very private world with this elaborately packaged Blue Journal: 11 songs, and an illustrated, 120-page book. Here Wiesnerová invites us to enter what appears to be a musical portal. Listening to the opening bars of her very first song – Sinking Deep – you will find it hard to resist relocating yourself into her world. Her voice is like a warm, inviting, whispered breath as the poetic alluring lyrics are released into air.
Wiesnerová is accompanied by musicians completely attuned to her vision and artistry. Sam Knight's questing horn soars above tumbling cascades of Charles Overton's radiant harp. Kan Yanabe's percussion colourations glued together with the gentle rumble of Michal Šelep's bass also invite us with impassioned conviction into Wiesnerová's private world.
Wiesnerová beckons you between the sheets (so to speak) of the Blue Journal. She lures you into this music of unsentimental intelligence, with her clear, beguiling tone. At the heart of her artistic conception is Nightingales and Maple Trees, a song that lies at the heart of Wiesnerová's secret soundscape deep inside her Blue Journal.
Throughout this repertoire, warmth and affection abound, befitting the delicately amorous subjects of the songs. For her part the inimitable Wiesnerová breathes her way into this extraordinary music with imagination and infectious musicality.