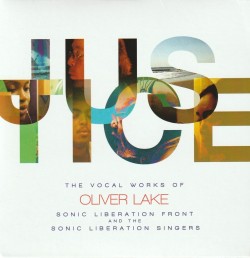 Justice – The Vocal Works of Oliver Lake
Sonic Liberation Front and the Sonic Liberation Singers
Hugh Two HT038 (sonicliberationfront.com)
Decades ago I was a young saxophone player attending university in Edmonton and saw a poster for an Oliver Lake solo concert. It had only a picture of him standing alone holding an alto saxophone. Intriguing. In that concert Lake chanted, shook beads and other percussion, hummed and spoke a few words between long soliloquies on his horn. The evening was a meditation that moved from one mood and thought to another and it was entrancing. Since then, Oliver Lake has performed and composed with an incredibly diverse range of musicians including the World Saxophone Quartet, and released over 40 albums as leader and more as a sideman.
The Sonic Liberation Front invited Lake to write for their unique instrumentation of violin, tenor sax, acoustic bass and drums with a vocal quartet. Lake wrote eight pieces which include two poems. This album has a great energy, which moves freely amongst all the players. What is funky and has an uplifting and syncopated melody played together by saxophone, violin and vocalists. It then moves into a scrappy but swinging sax solo by Elliot Levin while Veronica Jurkiewicz's phased violin solo reminds me a bit of Jean-Luc Ponty. Dedicated's beautiful flute line, combined with the smooth vocals, sounds like a strange and misplaced Burt Bacharach composition. I love it!
Ain't Nothin' Real BUT Love is one of the two pieces based on Lake›s poetry and has only some delightful a cappella background vocals accompanying the emphatic statements about how love «moves independently of our fears and desires.» Justice manages to be loose, edgy, groovy and heartfelt all at the same time.