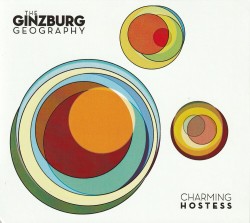 Jewlia Eisenberg – The Ginzburg Geography
Charming Hostess
Tzadik (tzadik.com)
Acknowledging that labels and classifications of music are inelegant and confusing at the best of times, I cannot, for the life of me, begin to properly describe or compartmentalize this curious, extremely musical and compelling album: The Ginzburg Geography by Charming Hostess, a trio comprised of Jewlia Eisenberg, Cynthia Taylor and Marika Hughes. Not only is this programmatic recording interesting in its theme – exploring the lives and work of Natalia and Leone Ginzburg, Jewish anti-fascist political activists who played central roles in the Italian resistance movement – but the narrative of how this recording came to be, following the untimely death of singer and principal performer Eisenberg in 2021 at age 49, is equal parts tragic and captivating.
Both storylines coalesce here on this fine 2022 Tzadik release that is both historical in its mining of a fascinating story of activism (combining research, creative reportage and original content creation) and historic in that it represents the final creative project of Eisenberg, a longtime respected contributor to the creative music scenes of New York and San Francisco's Bay area. Further, as Eisenberg's passing occurred prior to the album's completion, it took the efforts of longtime collaborator Hughes to complete this recording consistent with Eisenberg's original vision.
This would be, I imagine, a difficult process not only personally, but providing a sort of musicological challenge where information on composer and creative intentions were gleaned from notes and past performances before being willed to fruition on the recording here. Classifications be damned, there is much to learn from and to like with this provocative and thoughtful new release.