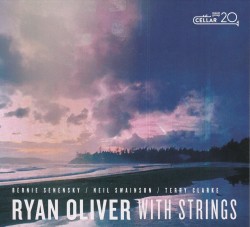 Ryan Oliver With Strings
Ryan Oliver; Bernie Senensky; Neil Swainson; Terry Clarke
Cellar Music CM102021 (cellarlive.com)
Juno-nominated, Victoria-based saxophonist, Ryan Oliver, has collaborated with a fantastic group of musicians on his latest release, making for a captivating musical voyage that any listener will want to join. The album features a group of famed musicians, with Bernie Senensky on piano, Terry Clarke on drums and rounded out by Neil Swainson on bass. What makes this album a truly unique endeavour is the string accompaniment that is present throughout each track, adding a wonderfully melodious and classy flavour to the record. Most songs were written by Oliver himself and arranged by Mark Crawford.
A soaring and sonorous string melody along with Oliver's mellow saxophone solo lead into the first piece, The Ballad of Buffalo Bill. A slightly mysterious yet positively groovy song, this will get any listener's toe tapping and body moving. Tango for Astor, one of the pieces not penned by Oliver, features a rhythmic, fittingly tango-esque groove from Clarke and a beautiful, pizzicato bass line played by Swainson. Eddie is an up-tempo tune with a scintillating riff in the strings underpinning a masterful saxophone line and piano solo showcasing Senensky's talent perfectly. To close out the album, Walk Up on the Road has a bluesy and gospel flavour to it, perhaps a fitting melancholic yet positive end to this record. For anyone looking to add touch of "James Bond-esque" class and style to their night in, this is the album for you.