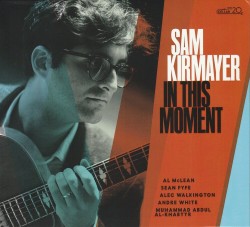 In This Moment
Sam Kirmayer
Cellar Music CM030422 (cellarlive.com)
Sam Kirmayer, a Montreal-based jazz guitarist who has gained a lot of notoriety playing with famed musicians nationally, has been and remains one of the most in-demand sidemen within the genre. Already quite a feat on its own for someone under 35, Kirmayer can add his third and latest release to that quickly growing list of accomplishments. The prolific musician's newest record features a track list of all new, original pieces that showcase not only his talent as a guitarist but also as a great composer. With renowned musicians such as Sean Fyfe on piano, Alec Walkington on bass and Andre White on drums, Kirmayer's already stellar compositions reach new heights aided by this fantastic backing band.
If there's a common theme or element that could be pinpointed throughout the record, it would be the guitarist's clean and precise style of playing that is just a pleasure to the ears. The Turnout features a driving bass line that keeps the song moving along at a pleasing pace, grounded by a constantly moving drum groove. Sleight of Hand takes us to a more down-tempo setting in which we hear a mellow piano riff underpinning melodious trombone and tenor saxophone solos, bringing to light Muhammad Abdul Al-Khabyyr and Al McLean's talents on their respective instruments. Soliloquy completes the terrific album with a meandering pizzicato bass line and soaring saxophone melody, leaving the listener awaiting what this young talent will release next.