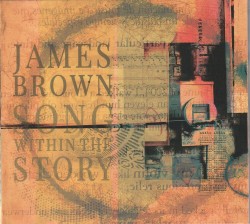 Song Within the Story
James Brown; Clark Johnston; Anthony Michelli; Mike Murley
NGP Records (jamesbrown.ca)
Based out of Oakville, renowned jazz guitarist James Brown has returned from a 13-year hiatus to release a much-awaited new album. And what an album it is; chock full of original tracks penned by Brown himself, and two covers of well-known Canadian folk-rock songs that he's put a unique spin on. Helping breathe life into the pieces is an all-star lineup of musicians, featuring Clark Johnston on bass, Anthony Michelli on drums and Mike Murley on tenor saxophone. A pleasurable and relaxing musical journey, this album will appeal to jazz lovers, both old and new, looking for a modern jazz staple to add to their collection.
Igor starts off the record with a nod to classical composer Stravinsky, one of Brown's influences in his classical guitar pursuits. Within the guitar melody are hints of phrases akin to what you'd hear in a Stravinsky piece; Brown once again masterfully mixes the musical realms of classical and jazz into one pleasant whole as he is known to do. Mbira Kids has its own unique flavour, with sections of the bass line and the rhythmic setup of the piece evoking elements of African music, "specifically those of Zimbabwe's Shona people." But perhaps most captivating is a beautiful and melodious cover of Joni Mitchell's A Case of You, closing out the album on a hopeful yet slightly melancholy note, leaving the listener to peacefully contemplate a truly satisfying and fantastic album.