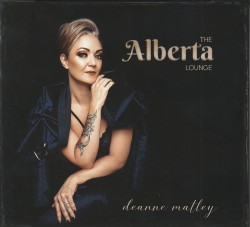 The Alberta Lounge
Deanne Matley; Taurey Butler; Paul Shrofel; Steve Raegele; Morgan Moore; Richard Irwin
Barbette Records BBR224 (deannematley.com)
This is Deanne Matley's first album since she bared her soul in 2018 on When I Loved. But although that music was born of sadness, we always had a sense that there was much hope in her questing voice. On The Alberta Lounge, she picks up where she left off, with the ebullient lyricism and joyful swing of this repertoire, which is a proverbial doffing of the hat to Oscar Peterson.
Matley is an artist of the first order; her silken voice, perfect pitch and gentle vibrato at the top of her range bring a touching vulnerability to the lyrics of the ballads The Land Was White (When Summer Comes), If You Were Here Today and Hymn to Freedom. Meanwhile her control of tone and pitch are on full display on the swinging charts, where she makes adventurous vocal leaps. Everywhere on this album her interpretive responses come in primary colours, tempered by a steady stream of vocal tone which imbues the music with a tricky combination of ethereal and concrete imagery.
The fact that Matley is bilingual enables her to shine on the English fare as well as the funkified French version of Lionel Hampton and Jeri Jones' Je Ne Sais Pas, re-christened here as Merci Pour Ça!. Her Portuguese version of Mas Que Nada also gets a passing grade. Matley saves the best for last: a gloriously spiritual vocal version of Peterson's Hymn to Freedom.