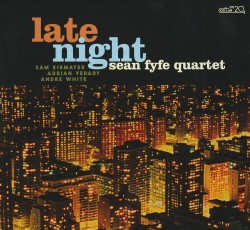 Late Night
Sean Fife Quartet
Cellar Music CM082021 (cellarlive.com)
New York-based Canadian pianist Sean Fyfe has had a passion for the piano since he was just five years old and his prolific talent is highlighted very well on his newest release. The album is chock full of originals written by Fyfe himself and features talented musicians Sam Kirmayer on guitar, Adrian Vedady on bass and Andre White on drums, breathing life into each of the pieces and shining a spotlight on Fyfe's compositional prowess. A mellow yet energetic record that complements a relaxing night in, this would be a fantastic addition to any jazz lover's collection.
Title track Late Night paints a picture in the listener's mind of a smoky and dimly lit jazz club through an intriguing piano and guitar melody underpinned by a toe-tapping drum shuffle and rhythmic groove. Little Pants brings a bluesy flavour to the mix, featuring a stepping bass line that keeps the momentum going as well as soulful solos and riffs that truly showcase the immense musical talent of each musician in the quartet. Throughout the record, a hark back to an era of jazz classics is apparent, with Fyfe's style reflecting greats such as Bill Evans, Wynton Kelly and McCoy Tyner. Validation finishes off the album with a finger-snapping, rhythmically driven piece that perhaps serves as a tantalizing preview of what more is to come from Fyfe in the future.