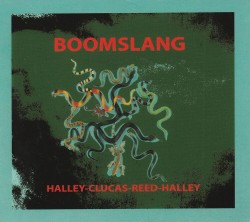 Boomslang
Rich Halley; Dan Clucas; Clyde Reed; Carson Halley
Pine Eagle Records 014 (richhalley.com)
Oregon-based tenor saxophonist Rich Halley is known as a great bandleader who has been churning out records for the past couple of decades. This latest release features a collaboration with acclaimed musicians Dan Clucas on cornet, Clyde Reed on bass and Carson Halley on drums; making for an engaging and energetic set of tunes. The album is all originals, penned by Halley himself and along with his band members. Bold and intriguing, this musical journey is sure to catch the attention of any jazz fan, new or old.
Corroboration opens the record with a unique saxophone and cornet interplay, something that isn't heard too often and thus instantly reels in the listener. A lively bass line underpinned with a tight rhythmic groove sneaks in and the result is a tune you just can't resist moving along with. Northern Plains is noteworthy as well for its tribute to First Nations music, the melody reminiscent of their chants and singing style and with the distinctive drum sound a constant in the background. Situational leads us into a more interpretive side of the record, where Halley showcases his talent of being able to mix a free-form style with what could be called a classic jazz sound. It's an interesting balance and mix of sub-genres that captivates the listener and leaves them wanting more. For the connoisseur of jazz looking for something to freshen up their collection, this album is definitely it.