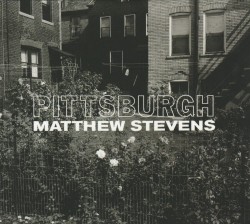 Pittsburgh
Matthew Stevens
Whirlwind Recordings WR4779 (mattstevensmusic.com)
Toronto-born, New York-based guitarist Matthew Stevens might be familiar to many as playing an instrumental part in creating the distinctive sound on several records by Esperanza Spalding. On his third solo release, Stevens manages to yet again carry over a completely unique sound to a set of all original tunes, penned by himself. The album is captivating in the way that it's all acoustic, creating a warm and intimate atmosphere where the listener can almost imagine what the musician had in mind while composing these pieces. You could absolutely say the album is an entire soundscape, with each song calling forth images of different landscapes and experiences.
Stevens mentions that "playing acoustic is a great way to develop a touch and a connection to an instrument" and that connection as well as the exploration of it is very apparent throughout this entire album. Each tune tells its own short story, whether it be more interpretive as heard on Northern Touch, a little more folksy and tranquil as showcased in Foreign Ghosts or altogether energetic like Blue Blues. Although Stevens credits taking inspiration from greats such as Pat Metheny and John McLaughlin who have been known to do a lot of acoustic exploration, the sound on this record is completely his own; being able to create such a niche for yourself is the mark of a true musician. A picturesque and pleasing whole, this record is a true gem.